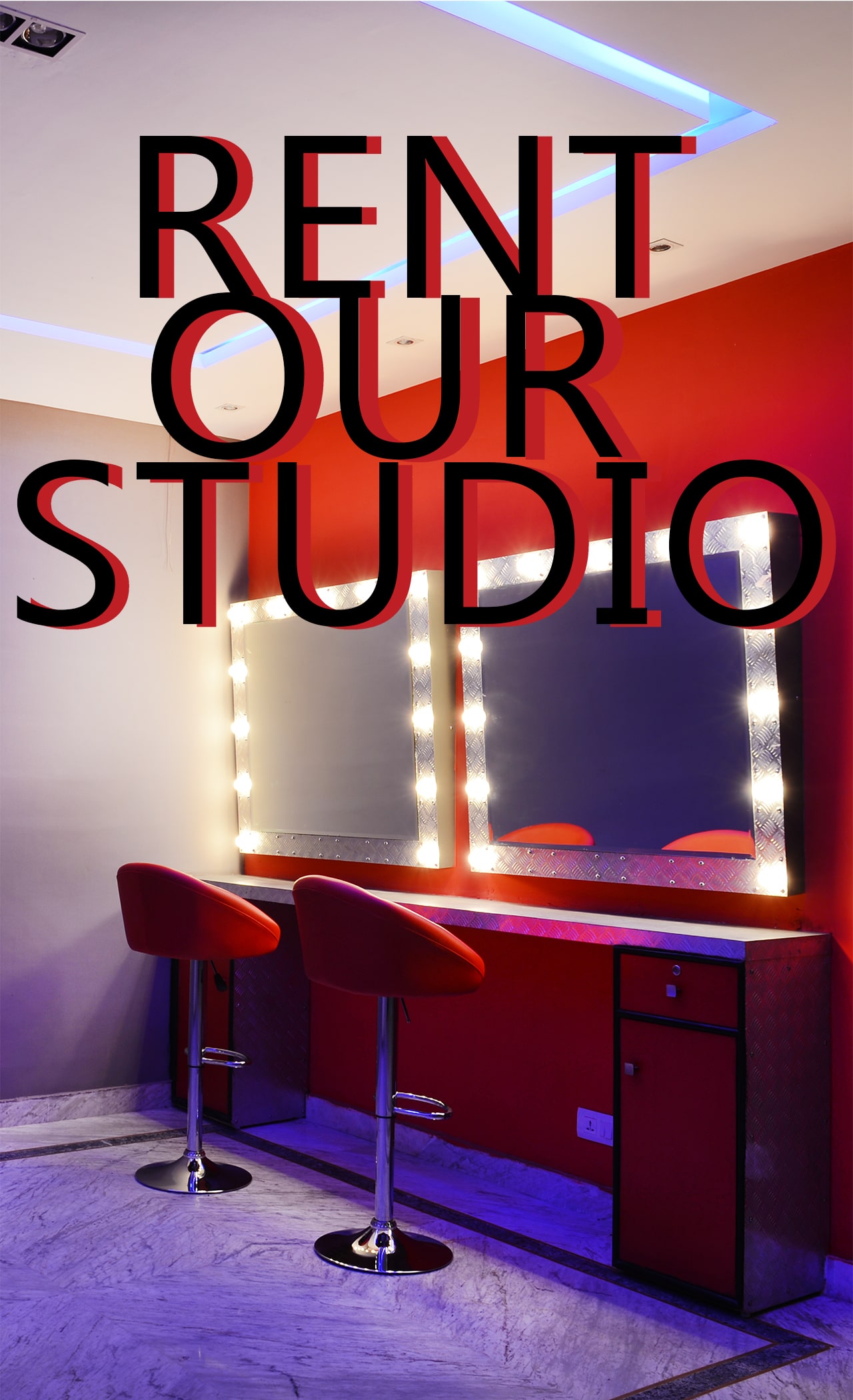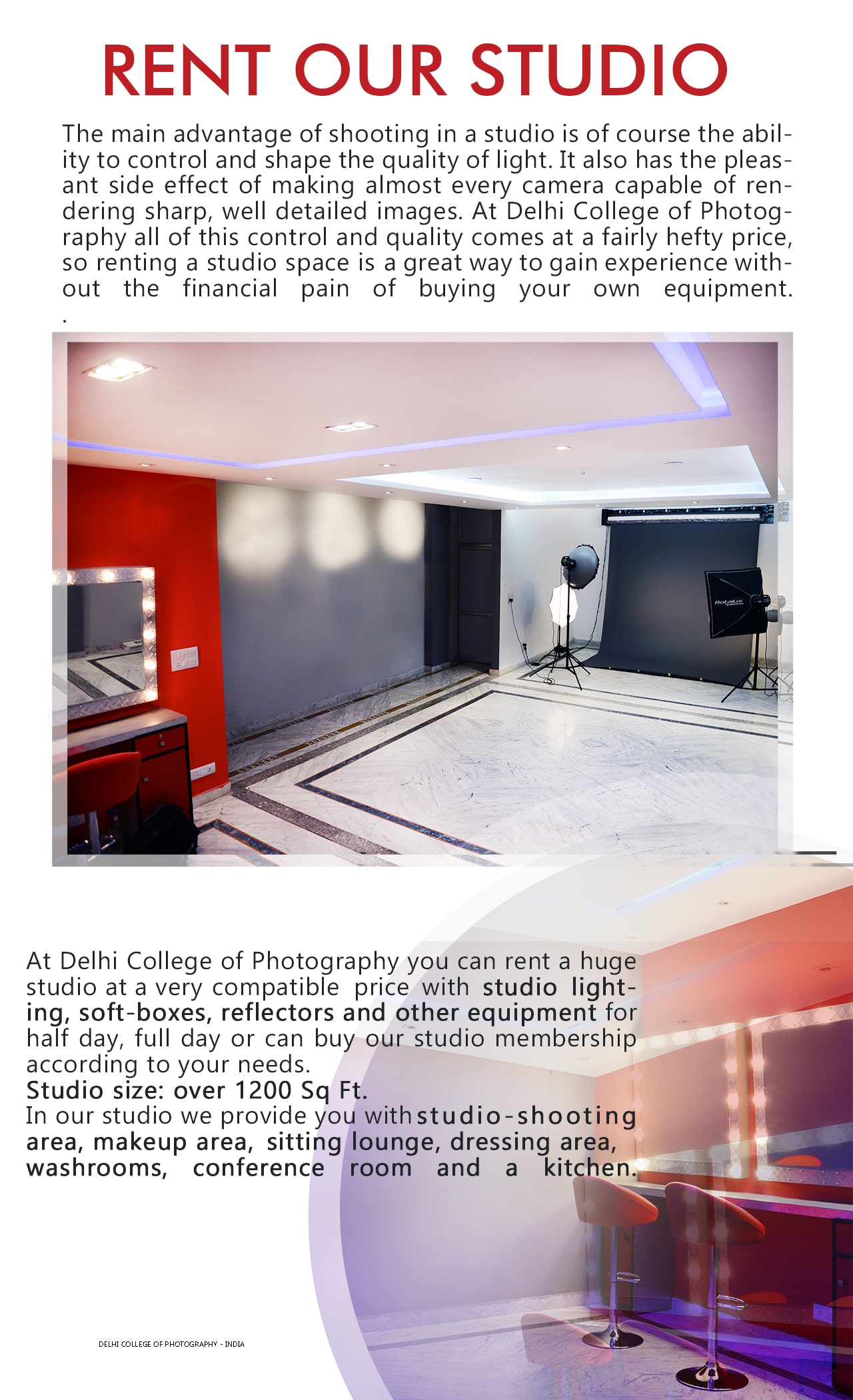 Lights & Modifiers
Profoto D2
Profoto B1X.
Light shaping tools by Profoto
OCF Magnum Reflector*1
RFI Soft-box strip*2
Soft light Reflector White (Beauty Dish)
Telezoom Reflector
Zoom reflector
OCF Grid Kit
Pro-Fresnel spot
Snoot for Zoom Reflector
OCF Colour effects gel pack
Umbrella Deep white
RFI soft box Octa
Profoto C1 Plus
RFI Big soft box octa
The studio
Private Space
Soft Light Boxes
Continuous Lighting
Green Screen Backdrop
Custom Printed Backdrop in-house
Make-up Mirrors
Full Body Mirror
Changing Zone + Apparel Rack
Acoustic Foam Panels
Controlled Lighting
Toilet & Shower
Central Heating
Coloured Lighting
Smoke Machine
Bose sound systems
Multiple layer background dispenser, etc.
Camera, Tripod & Stands
Hasselblad H6D 100 C (300mm f4, 110mm f3.5, 24 mm f4)
Nikon D4, Z6 & D810 with lenses(70-200 f2.8, 50mm f1.4, 105 mm Macro f2.8, 24-70 f2.8, 14-24 f2.8)
Panasonic S1 (50mm f1.8, 24-70 f4) Manfrotto tripods (Pan heads) Gitzo tripod (Gimbal Head)
Avenger Boom stands with rollers
Avenger C stands
Avenger Ground Stands
Video Equipments
Sony FS 7 Cinema Camera
Cinema Tripod
Gimbals Sliders
Atmos Shogun Inferno
High powered LED/ Fresnel lights for your video productions.
Sennheiser lapel mic for audio recordings.
Boom Mic & Mixer on request.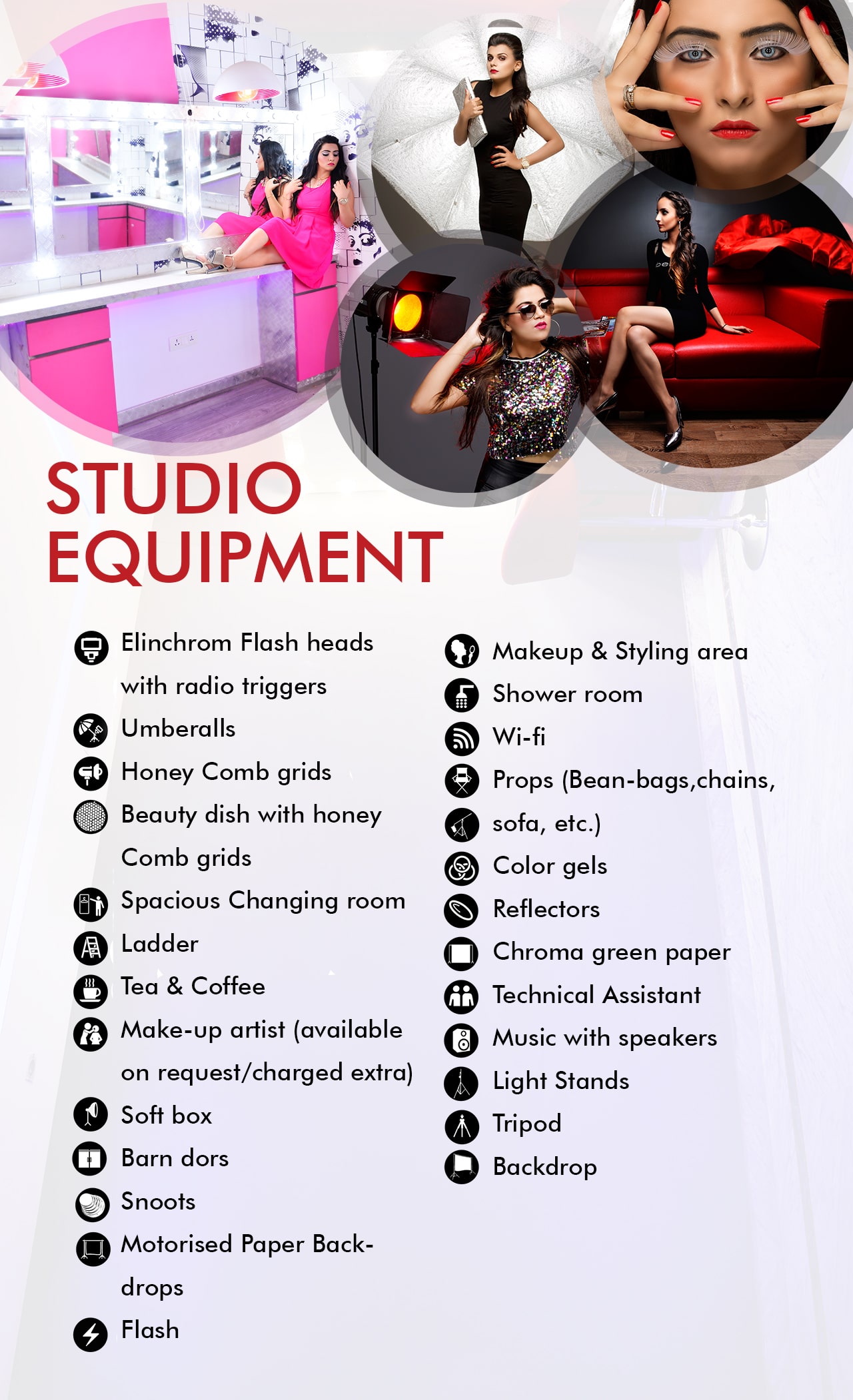 Backgrounds: White, Black, Fashion Grey, Mocha, Ultra Marine, Crimson, Primary Red, Green, Canary Yellow, Purple, Tulip Pink, Brown, Deep Yellow (All Savage Background papers)
Photo Lights: Profoto B1x, D2, Elinchrom FRX 400 and ELC 1000
Video Lights: 200W (Equivalent to 2000W normal Fresnel) LED Fresnel Lights
Softboxes: 175 Octa, 135 Octa, 100 cm Strip , Large Square Soft Box , Small Soft Box, Reflectors, Umbrella, Snoot, Beauty Dish with grid
Turntable: 360 degrees auto rotating turntable for product shoots
Accessories: 3x1 Reflector Kit, Colored Gels, Barn Doors, Super Clamps, Extension Boards, Manfrotto/Vanguard Tripod and Monopod, Sennheiser Lapel Mic, Boom Stand, Sekonic L758DR light meter
Power: Utility Power cables, extensions and instant power backup
Dimensions: 48ft (length) x 23ft (width) x 11ft (height)
Music: JBL Party box compatible with iPhone, USB & Aux support
Pantry: Tea & Coffee Vending Machine, Microwave, Refrigerator, RO machine
Connectivity: Nearest Metro station is GTB Nagar.
Air-Conditioning: Fully air-conditioned studio
Garment Care: Ironing Board, Steam Iron, Clothing Rail, Hangers
Others: Helper, Changing Room, Makeup Table, Ceiling track, Motorized Roller, Body & Hair Fan, Bar Stool, Sofa, Acrylic Sheets, Thermacol, Mannequin, Snow machine, Smoke Machine
Rates: INR 8000 for 8 hours / INR 4000 for 4 hours / INR 1000 per extra hour