Our talented & experienced team delivers amazing results.
We have a can-do attitude backed up by more than 7+ years of experience in training and educating students and delivering high-end, creative content to various prestigious institutions and organisations.
Director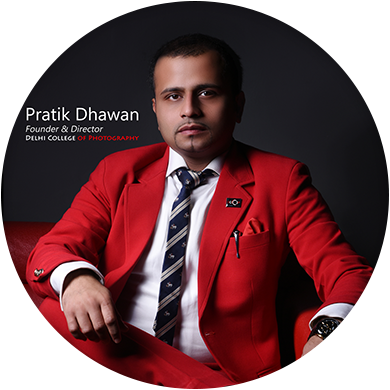 Pratik Dhawan
Founder & Director
Mr. Pratik the founder and director of Delhi College of Photography has years of experience in commercial & Fashion photography. He is a Bachelors degree holder in International Business Management form Middlesex University (UK), Master's degree holder in Biotechnology from the University of Nottingham (UK). Mr. Dhawan also has a completed multiple certification courses in Marketing and Photographic art from Georgian college Canada and ISH London, respectively.
What began as a hobby and later turned into passion led him to work as a professional photographer and there was no turning back since then. Mr. Pratik has been a part of fashion shoots for the finest fashion and production houses that includes 'Picture-pal', 'Double take studios', London etc. He has also worked on numerous freelance projects including London Fashion Week & Brondsbury Fashion Week. He has also showcased his work in UK & Canada.
Our Faculties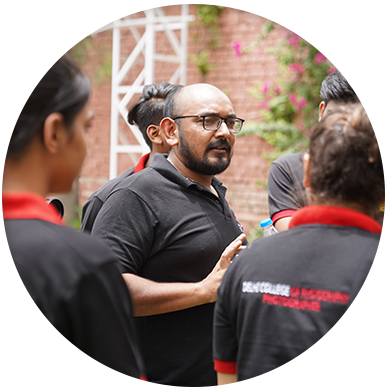 Zohaib Hussain
Zohaib Hussain is a Delhi based Fashion and Commercial photographer who combines personal and commercial work and makes various creative images and projects. While studying Commerce in Delhi university keen amateur shooter started taking professional classes from Mr. O.P Sharma, after finishing his training, he started working as a professional photographer. He has done photo shoot for numerous fashion designers and fashion brands, advertising agencies, and has experience is working in every area of photography.
He has worked for brands and organizations like Nestle India, Getty images, Indiapix, Godrej, Greenply laminates, Yale, Catch spices, Aircel etc. He has done food photography for Karim's, Maggi etc. His fashion work has been published in various magazines and associated with designers like Rina Dhaka, Rohit Gandhi + Rahul Khanna.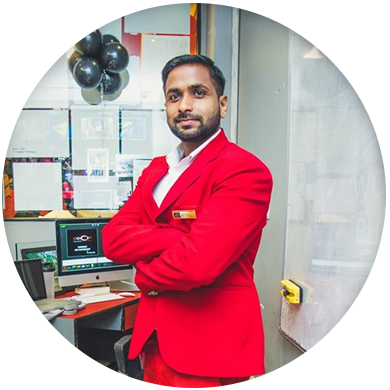 Naveen Gola
Naveen Gola is a Delhi based photographer, film maker and a faculty of film making at DCoP. Studied M. Phil (Mass. Comm.) and post graduation in language translation and is currently pursuing Phd. He is a jury member of the 'Film makers club of India'. In the past he worked as an Asst. professor at IP university and has been asst producer for various media housed based in and out of Delhi.
He has written a book on fundamentals of still photography and video cameras and has won national award for his shot film felicitated by Madhur Bhandarkar. He has worked on numerous TV programs and documentaries both fiction and non fiction and has guided a lot of upcoming movie makers with his expertise.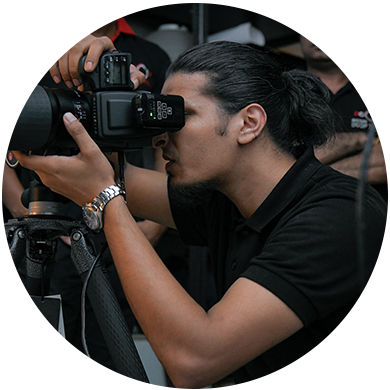 Abhimanyu Pandey
Abhimanyu is a Fine art, food & product, travel photographer from central India. He completed his MBA form Asia's only tech university and worked as an analyst for an aerospace organisation based out of Texas U.S.A. He found his calling in Visual imagery and went on to study further about photography. He completed masters in visual storytelling, fine arts and commercial photography from Goa. He has worked as a photography head for various companies, trained and tutored budding photographers and taught international students the art of photography and stop motion animation.
He has worked all over India for his various projects and has published a book on his visual documentary "The Silent Keepers' in association with Griffith university and his art school during his time in Goa. He has worked alongside Magnum photographers like Bieke Depoorter and Sarkar Protik for his Project.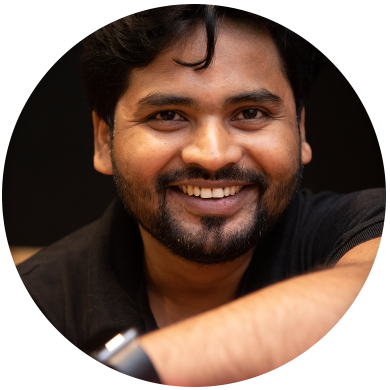 Indarjeet Kumar
Indarjeet Kumar is the faculty of Photo processing & retouching at DCOP. He is a graduate from J.P university specialising in B.A. He worked as head of processing department at Prem Studios. He has completed his training from Adobe in its creative suite and is an adobe certified editor.
He has worked for various fashion designers, celebrities and modelling agencies. He also worked as a creative designer for Canvera.
International Faculties
Over the years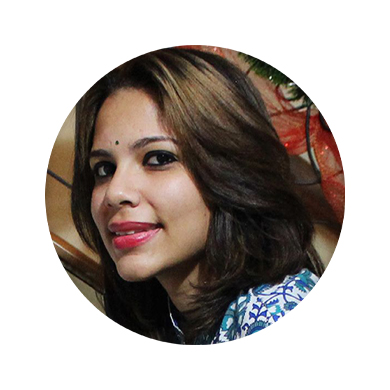 Andrea Virginia Calderon Araujo
Passionate about the movie industry, Andrea studied cinema and audiovisual media. Dedicated to committing her career to creation of audiovisual content, Andrea has experience and knowledge in photography, film theory, history of art, directing actors, film production and has worked on a Documentary as a screenwriter.
Having a background in film and audiovisuals, Andrea is confidently making a very successful input to Delhi College of Photography, taking Photography classes and Photography Workshops. Experienced team leader, she successfully demonstrates her capability of working with others through the creative process of production while meeting the challenges presented to her.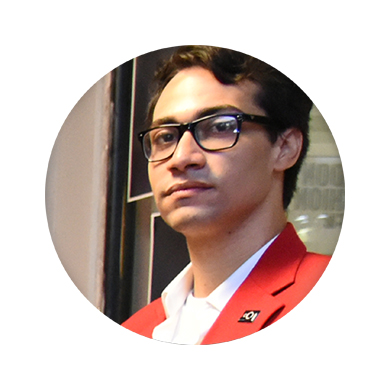 Marlon Fernandez Rubio
The Radio, Television and filmmaking independent Producer Mr. Marlon Enrique Fernandez Rubio has been working as a Director of photography, camera-man, and video editor in local and national TV channels in America. He is teaching and sharing his experience as a teacher of the Filmmaking Program.
Jean Carlos Jurado Mandon
Passionate photographer and successful photo blogger Jean has developed a love for the image in all their forms and is always looking to improve and share knowledge and experience. He finds art as the great expression of the human soul and eagerly committed to creation and development of an imagination.
Jean graduated in Film and Audio-Visuals from the University of Magdalena. The field of his studies covered fashion and graphic design, photojournalism, arts and culture. Jean has worked successfully as a Photographer and Film Director, screenwriter, producer, editor and creative director. While teaching at Delhi College of Photography, Jean continues working on his projects and brings his international experience in his approach.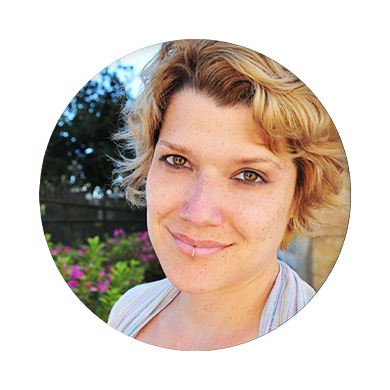 Renata Aguiar Rodrigues
Graduated in Visual Arts and Image Technology from the University of Amazon (UNAMA, 2011), Master of Arts from the Federal University of Pará (UFPA, 2013), Renata has an experience in the area of Arts with an emphasis in photography, art education, culture, history and memory.
Active in several areas of research in art in the Amazon region, as a photographer developed research on the topic of image/identity. Was voluntary of Photoactive Association (2012-2013), where was part of the study group Pedagogy of Light, participating, or leading workshops and events geared to education and photography. teacher at Delhi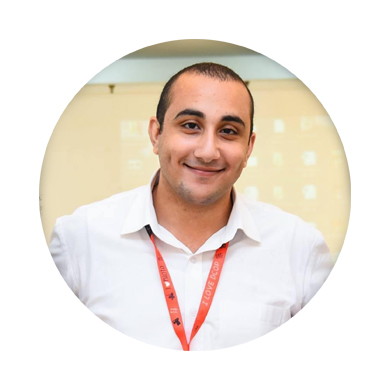 Yasser Alaa Mobarak
Yasser, award-winning photographer based in Alexandria, Egypt. Sony World Photography Awards commended photographer. He won photography prizes from The International Federation of Photographic Art, National Geographic Egypt, Photographic Society of America and Prix De La Photographie Paris. A holder of AFIAP distinction from the International Federation of Photographic Art and holder of Associateship from Image Colleague Society International. Judge in the photo essay category at Adobe Youth Voices Awards 2014 and in the visual composition category at Adobe Youth Voices Awards 2015. Also he judged twice in Romania National Creativity Contest. His work appeared in National Geographic Traveler India, Amateur Photographer Magazine, Digital Camera World Magazine and Adobe Blogs.
Marketing Head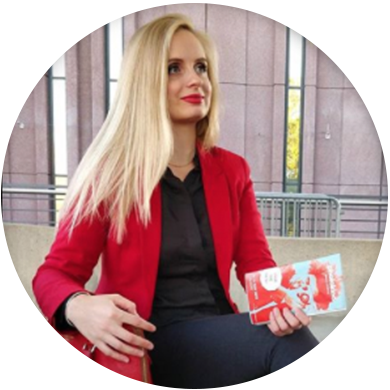 Natalya Dhawan
Having a great passion for fashion business and design, Natalya got her masters degree in law and turned her path into different direction. She went her way from being a fashion blogger into working at one of the most iconic fashion magazines. Natalya brings her experience in fashion industry and marketing to our staff, students and mentors at DCOP, as Marketing head.
Natalya is responsible for leading the communications, overseeing the functions of communications, media, brand management, online and offline publications and marketing events management. Looking for inspiration in the filed of fashion business and marketing, she combines her passion for travelling by gaining an international experience at Delhi College of Photography.
Head of department – Admissions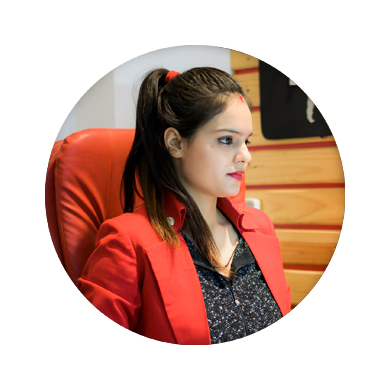 Sushmita Singh
Sushmita Singh is HOD-admissions at Delhi college of photography. She graduated from Miranda House specialising in Sociology, and holds B. Ed from M.D.U. She has an experience of over 5 years in the industry. She believes in delivering the best from her team. She is associated with multiple co-working spaces in varied domains and has an innovative approach towards her roles and responsibilities.